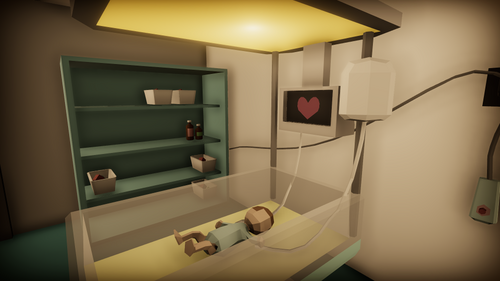 Wow, I've finally posted the game here on itch. It just took a few hours to set the page up etc.. the game was already made, but.. well sometimes finding the few hours is difficult.
I was really thrilled when Jupiter Hadley contacted me in secret in 2018 to join #MeditationGames project. "Every day a message from the past", on one of the days my game would tell my message from the past.
Choosing the subject was not easy. In the end what pushed me to make choice were the "days" that were still available. There are stories I would like to tell, like the one when I first become mum, giving birth to my daughter, alas that day was already taken. And so I would choose October 22nd: the day my little newborn son was admitted to intensive care nursery in life-threatening condition a few years back.
It all felt like a strange dream the night before it happened. In the evening he just started crying a lot, the crying we could not stop in any way. Than we figured he had a fever and that it was what probably what was hurting him. If you are a parent for a while you get used to the fact that children have fever caused by virtually anything and that it's benign most of the time. They have fever so often, and it's so often benign, that you drop your guard. It was 22 p.m. we gave him paracetamol and were trying to lull him to sleep, when all of a sudden I heard a voice in the back of my head, some sort of sixth sense: "If a newborn child has fever, call an emergency". So I called the emergency, and they asked us to come to the local hospital at once, that they were notifying them of our venue.. They started giving him medicine and made tests during the night. In the morning on October 22nd, their suspitions were confirmed and my little baby was transferred alone in an incubator of an ambulance to intensive care nursery, one hour away from our home.

He was in quarantine and I stayed with him at all time. If strictly respected, the medical protocol allows for adults to visit, so hopefully his dad could come during the day. He would take care of our son, while I was resting after sleepless night or we would play word games on the white board when our son was sleeping. But our toddler daughter was not allowed to come and visit because her brother's condition could be harmful for her and to other small children. And because of the distance it was really complicated for me to go back home, so she didin't see me nor her brother for several days. She knew something was wrong, children understand these things and I know it has been very hard for her.

When i'm writing this my son is all right, everything turned out fine. We spent a few days at the hospital and then after a while at home he got better and was not ill again. I later learned that time is of essence in these cases, that even a few hours of delay could result in terrible consequences... So I'm very grateful to the voice from the back of my head and to the medical personnel of the intensive care nursery in the hospital in Saint Brieuc.

Adapting the story so that it would fit the 5 minutes experience was a challenge. In the end, I've chosen 2 small vigniettes of that stay at night time to portray in the game. I wanted to portray this experience "as it was", therefore I chose to make my own 3D models so that the hospital room would look exactly how I remember it. I dig photos of that time and place, I haven't looked at all this time.

The screaming heard in the first vigniette is fortunately not my son, I've used sound by renatofarabeuf from Freesound.org. In the second vigniette you can hear my son actually crying (at the time of making the game).
I've put a lot of heart into this game. But I felt it weird to keep this a secret for nearly a year. It took me roughly a week of evenings in 2018 to make the game. I sent it to MeditationGames and it was like sending a space probe into the void.. You work franticaly for a time, you launch it and then.. no response for several months.. will it work? is it any good? I made my space probe, I launched it and I could only pray it would reach its destination the day it was supposed to reach it, in a year.. On one hand, it was exciting to be part of something this big with all the other extraordinary people, on the other, it felt strange not to have any feedback at all trough all these months.. The game told a personal story, so inevitably there's some level of anxiety involved for the creator, and I felt that nobody delt with that. I know people were occupied. But most of the games in the project were personal so I suppose I can't be the only person feeling this way.

Much happened in my life later on, so I practically forgot about the game. Fortunately several months back I had put a reminer in my agenda. I was being worried that by the end of the year people would forget about the project and that nobody would play but in the end I got feedback from people who played this game exactly on October 22nd in 2019, and it was really touching, I remember it brightened my day. All in all, I'm really happy I participated.

I hope you enjoy the experience as much as I enjoyed making it.

Files
October 22nd Windows.zip
21 MB
34 days ago
October 22nd Mac.app.zip
24 MB
34 days ago
October22nd Linux.zip
24 MB
34 days ago